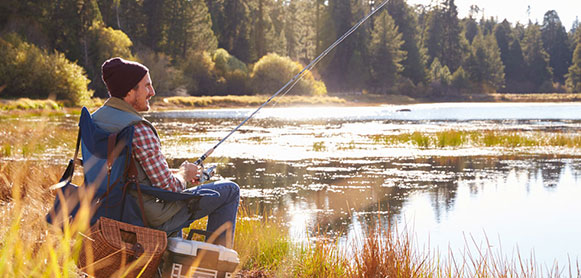 Fishing friendly accommodation at Toftum Bjerge Camping
The close fishing
The Limfjord is an extensive system of small fjords, broadsides, healthy and coves that were formed during the last ice age, and here you will find all coastal types, large nature and a wealth of good fishing places, regardless of the season. Fishing for sea trout is especially popular, but fishing for herring and hornfish is also popular when there is a season for it.
Toftum Bjerge Camping, is located at one of the well-known sea trout sites in Nissum Bredning in the southwest part of the Limfjord.
The opportunities for fishing in the local area are versatile. If you move out on the west coast, there is opportunity for fishing in harsh nature and some of the best pier and hip fishing you can experience in Denmark. Nor is it far to the Great River, where fishing for big salmon is possible.
You can find more information about fishing in the Limfjord, descriptions of the individual fishing spots, fishing tips and much more at www.havorredlimfjorden.dk or in the guide "Angling in the Limfjord", which is sold at us.
As a certified accommodation for anglers, we can guide you on the local fishery, and we have facilities such as a cleaning area and freezer for catches etc.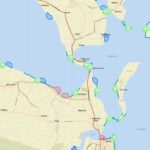 The map shows a number of well-known fishing spots in the Limfjord and on the west coast with a line and an associated number. The sites are selected on the basis of local anglers' experiences with fishing and the availability of the sites.
Fishing license
If you are between the ages of 18 and 65, you must have a fishing license to fish with rod and other gear in Denmark. The fishing license can be purchased online at www.fisketegn.dk or we can help you with it when you arrive.
http://www.havorredlimfjorden.dk/
http://www.l-o-s.dk/
https://www.fisketegn.dk